SNAP DRAGON
A short-term "pet" showed up at our house one afternoon. Our neighbors, the men of the Milligan clan, hunted turtles by feeling under the banks of streams. With experience, painful or not, they had learned how to identify snapping turtles which were holed up in the soft mud. Moreover, with their huge muscular hands, they could grab a snapper by its tail, flip it out onto the dry ground, and still retain their fingers!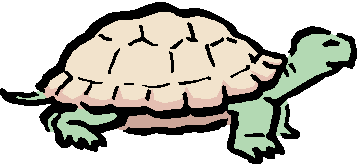 So that day, Sam and Jim brought Dad a big live gift snapper. It was dumped out of the burlap bag into a wash tub in our cellar to await its ultimate fate. We kids, having been given ample warnings on the bone-crushing ability of its jaws, then had opportunity to inspect this powerful reptile. With long stick or screwdriver, we tested its accuracy and speed in 'putting the bite' on them.

During supper it was decided that perhaps Mom should try her hand at concocting some fresh turtle soup for the next day's supper. Oh, we had heard that there were seven different types of meat in a turtle, but Mom would not differentiate, but put them all in the same pot. That evening, Dad and my older brothers Dick and Ray learned as pure amateurs how to butcher a turtle. I cannot recall the details, but most every tool in the house was eventually tried in the attempt.

Pets are to be a part of life's experience. This one taught me two things. First, this old species survived millennia by being truly tough and tenacious. Next morning, hours after its death, the decapitated turtle's head still had an unyielding grip on the handle of a pair of pliers! And second, turtle soup is delicious.

---

CAUGHT YA

Summer visitors of ours, I always saw hummingbirds having dinner at various blossoms near our house. Ah ha! Last week I went out to check out how the blueberries were ripening. There UNDER the net was a trapped thieving hummer with an accomplice hovering above. Now I didn't actually SEE her stealing blueberry juice. Could she possibly do it with her long proboscis? Giving her the benefit of the doubt, I declared amnesty and released her to the ethers.